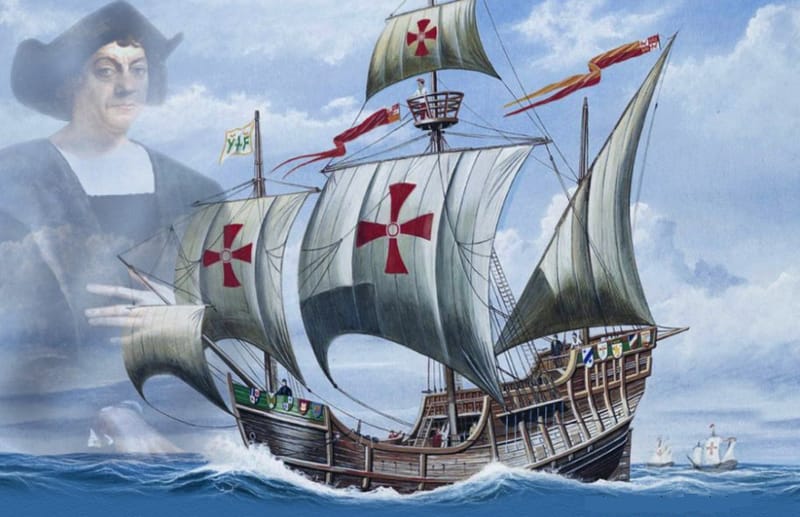 History of our committee
Here in Detroit, Columbus Day was celebrated from about 1896; the first official celebration recognized by local and state authorities was in 1909. Two organizations first organized the celebration: La Tribuna Italiana D'America (better known today as The Italian Tribune), our first issue was in May 1909, and the Knights of Columbus-Council No. 305. The original Editor of La Tribuna Italiana D'America, Vincenzo Giulano, initiated Columbus Day as a civic celebration in Detroit.
On October 16, 1909, the Italian Tribune announced a drive to build a monument to Christopher Columbus in Detroit and made a first donation of the one hundred dollars toward the project. This monument was created by Italian sculptor, Augusto Rivala, and dedicated to the City of Detroit on October 12, 1910.
The bust and its base originally sat at the end of Washington Boulevard at Grand Circus Park, but after restoration it was moved to the corner of Jefferson Avenue and Randolph Street. On the day of unveiling, October 12, 1910, a time capsule was placed in the pedestal, but was not found when it was moved in November 1987. The bust was rededicated in 1988. An inscription reads, "Christopher Columbus, a great son of Italy. Born 1435 – Died 1506. Discovered America October 12, 1492. This monument is dedicated to his honor by the Italians of Detroit, October 12, 1910."
Since then, the Italian-American Community of Metropolitan Detroit has continued the Columbus Day Celebration with a calendar of events including the Columbus Day Queen Contest, Parade, Church Mass, Placing of the Wreath and a Gala Banquet where special guests and award recipients are honored. Some of the entertainment guests over the years have included, Enzo Stuarti, Soupy Sales, Buddy Greco, Anna Maria Alberghetti and Annette Funicello to name just a few.
Columbus Day commemorates the role of Italian explorer Christopher Columbus in opening the Americas to European discovery more than 500 years ago. It's a day of celebration not only for the Italian-Americans but all people who take pride in the their personal heritage.
What is being celebrated, really, is the spirit of exploration and discovery of man's needs to expand the boundaries of his world, whether it is on an ocean voyage, a trip to the moon or a tourist "discovering" the riches and delights of an Hawaiian Island. The spirit of discovery is always worth celebrating, and the use of Christopher Columbus as a symbol of that spirit is a tribute to the explorer.
Past Presidents of the Columbus Day Celebration
2016-2018 Tony Vivona
2015-2016 Mark Garagiola
2013-2014 Frank Cusumano
2011-2012 Pamela Baker White
2008-2010 Theresa Toia
2005-2007 Dominic LaRosa
2004 Sebastiano S. Previti
2003 Tony Marchione
2002 William Morelli, Sr.
2001 Geraldine Calderone
2000 Sebastiano S. Previti
1999 Domenick Rondello
1998 Mark Garagiola
1997 Mark Garagiloa
1996 JoAnn Lingenfelter
1995 Ned Piccinini
1994 Edward M. Baker
1993 Dr. Todd Cammarata
1992 Marlene Baker
1991 James Cammarata
1990 Thomas Lanni
1989 Ned Piccinini
1988 Ned Piccinini
1987 Joseph Bartoletti
1986 Michael Cicchella
1985 Russell Gambino
1984 Martin Reno Garagiola
1983 Joseph Lentine
1982 Luigi Ruscillo
1981 Anthony R. Tersigni
1980 Gary W. Novara
1979 Salvatore Ventimiglia
1978 Edward Rondina
1977 Domenic L. Palazzolo
1976 Camillo Simonetti
1975 Antony Rubino Sr.
1974 Anthony Sanfemio
1973 Sam Lentine
1972 Louis Calcaterra
1971 James Cammarata
1970 Mark Valente, Jr.
1969 Rosario Mazzara
1968 Anthony Ciarvino
1967 Charles Cassise
1966 Philip D'Anna
1965 Sal A. Lauricella
1964 Dominic J. Licavoli
1963 Guy Avolio
1962 Benedetto F. LaRocca
1961 John B. Cipriani
1960 Domenic Marco
1959 Andrew Mancini
1958 Peter D. Bartholomeo
1957 Arthur DeSantis
1956 Luigi Orsini
1955 Dr. Dominic L. Pucci